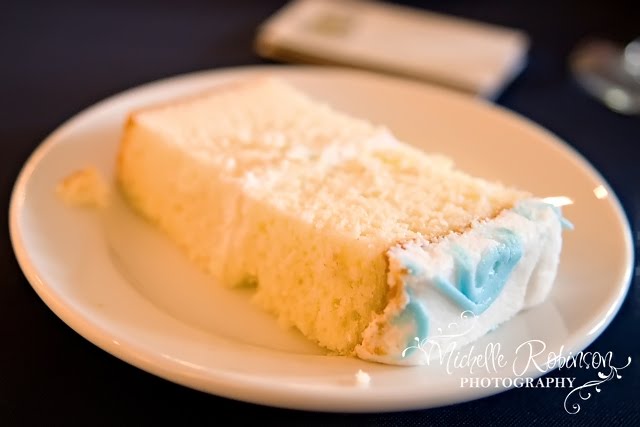 Feel free to mix and match any of these cake, frosting or filling flavors.
Cake Flavors
Almond Twist: An unyielding thumb's UP to this elegantly soft and moist white cake. Simply add toasted crunchy almonds for a more distinct flavor.
Absolutely Vanilla: This creation is sure to satisfy the vanilla lovers desire. Soft, white and moist, this palate-pleaser is best appreciated with either of our delicious buttercream frostings and is another one of our famously delicious wedding flavors.
Best Lemon Zest: This elegantly flavorful lemony cake is made with real lemon zest is by no means overbearing in taste and is bound to be a favorite of dessert lovers for years to come.

Bold Butterscotch: The distinct butterscotch flavor of this cake can be played up or down by choosing one of the following creamy frosting: butterscotch, chocolate, or vanilla.

Carrot Harvest: This homemade delight is 'cinnamony' fresh with hand grated carrots, juicy raisins and moist coconut flakes. Sandwich this cake between our sweet cream cheese frosting to yum it up even more.
Chocolate Persuasion: Yield to the temptation of this rich mouth-watering delight. This Traveling Cake Plate original will cure any chocolate craving. Feel free to add mini chocolate chips to the creamy batter for the extra crunch makes every slice extra special!
Chocolate Cappuccino: Now you can drink your coffee and eat it too! This alternative to chocolate cake is too good to put into words. So just try it with almond butter cream and prepare to say..."WOW! This is so good!"
Cinnamon Swirl: This tasty cake combines our golden butter cake with a hefty swirl of fresh cinnamon spice and rich brown sugar. Cinnamon and spice lovers are falling even deeper over this fresh new Traveling Cake Plate flavor!

Coconut: This yummy scratch delight fuses classic coconut flavors with love for a decadent southern culinary experience.
German Chocolate: This southern favorite is scrumptious and sweet. Made with fresh coconut and crunchy pecan filling, this rich delight is best decorated with butter cream or German chocolate frosting.

Golden Butter: This indulgent delight is sure to please any palate longing for the taste of traditional yellow cake. This staple is a favorite among all cake lovers and a sure bet for brides-to-be!

Orangy Almond Zest: With a flavorful combination of almond and orange zest, the spring-like taste of this dessert is the perfect alternative to plain white wedding cake and is even better when accompanied with our smooth citrus butter cream.

Red Velvet Love: As our menu's newest addition, this crimson creation is firm yet charming. Enjoy this with our vanilla flavored butter cream for an awesome combination of sweet and savory!
Strawberry Burst: This pink, soft cake makes you feel young and giddy on the inside. Pair this cake with a cream cheese filling and our smooth vanilla butter cream and you'll be smiling from the inside out!
Frosting
Vanilla
Cream Cheese
Milk Chocolate
Lemon
Almond
Citrus

Chocolate Ganache,
Butterscotch
German Chocolate
Fondant
Mousse & Cream Filling
White Chocolate-Almond
Vanilla Cream
Strawberries & Cream
Cherry Almond Cream
Banana
Orange

Coconut Cream
Fruit & Preserve Filling
Strawberry
Raspberry
Lemon
Chocolate Ganache
Coconut-Caramel